Owned by the same family for over 100 years.
Washpool is a 2,000 acre sheep and cattle station, and now you can experience the privacy, exclusiveness and romance this location has to offer for a relaxing holiday.

Palliser Bay is rich in Maori and early European history. Remains of the earliest house site in New Zealand can be visited at nearby Omoekau Valley. The settlement excavations date the site at 1200AD one of the oldest inhabited areas in New Zealand.

Read More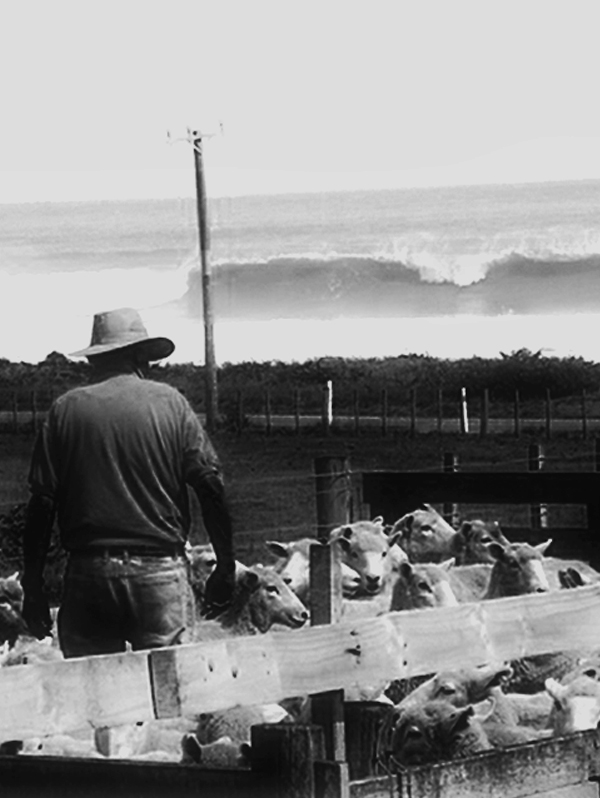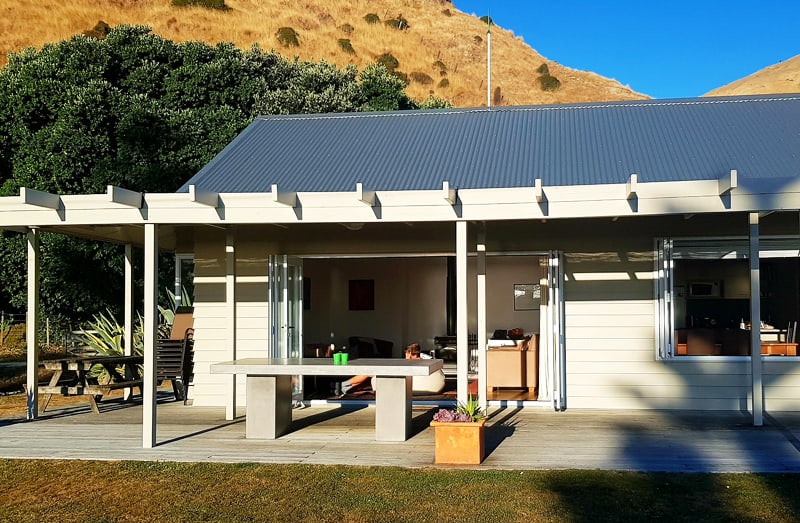 Enjoy the outside verandah for sunbathing, dining or relaxing. Private & peaceful. Also available a double garage with internal access.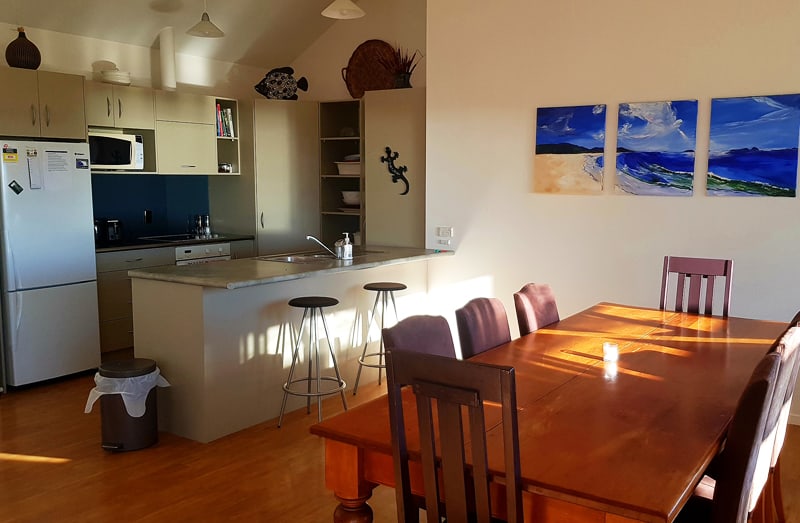 Fully equipped, modern kitchen with a large farmhouse table. Appliances included like dishwasher, microwave, fridge/freezer, kettle…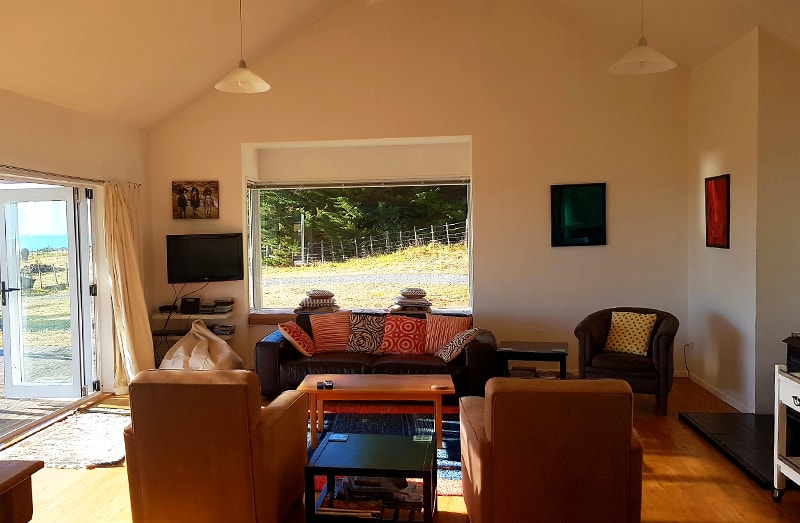 An inviting living space with wide bi-fold windows and doors and a large, sunny bay window, all with coastal views. Also available a wood burner for warm and cosy winter months. Included stereo, telephone, TV and video/DVD.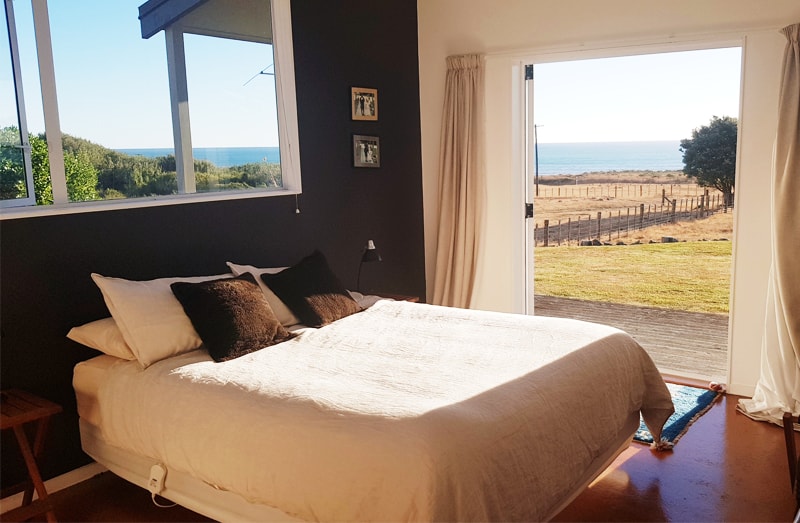 Queen bedroom 1, with French doors to deck and lawn and magnificent views over Palliser Bay. Linen provided.
Queen bedroom 2, with French doors to deck and lawn and magnificent views over Palliser Bay. Linen provided.
1 Twin King Single bedroom, with stunning sea views. Linen provided.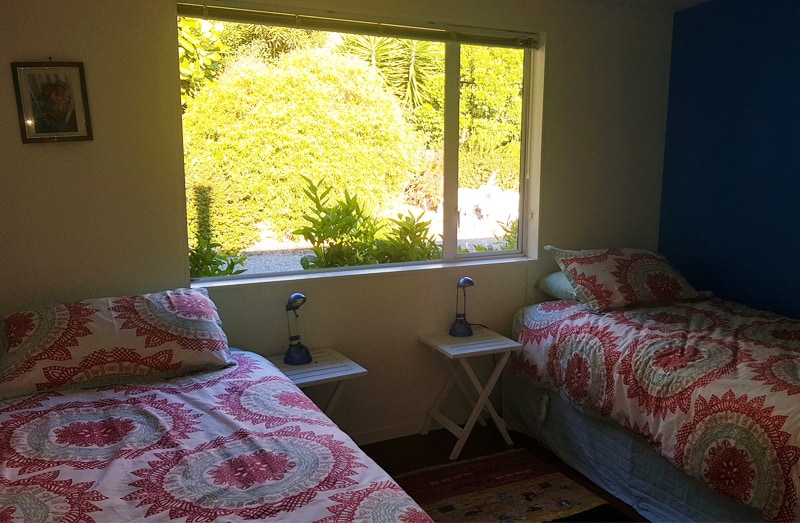 1 Spacious twin single bedroom. Linen provided.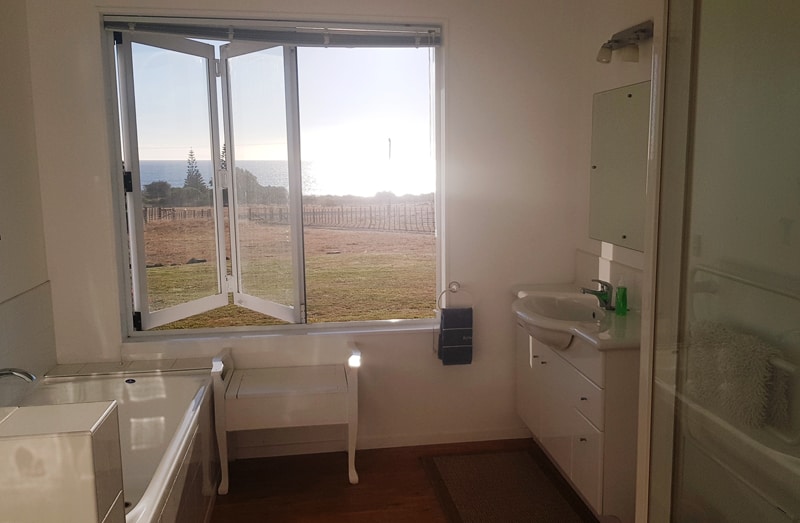 Complete bathroom. With large bi-fold windows and sea views from the bath, shower and toilet.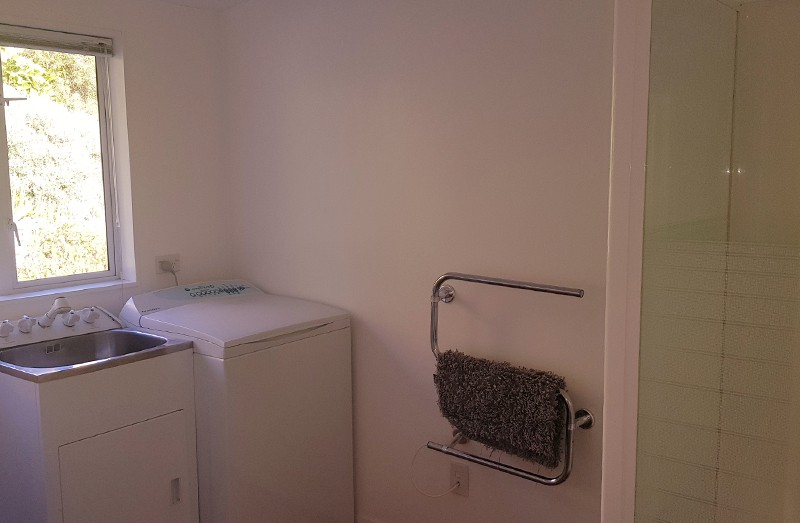 Complete bathroom. With shower, toilet and laundry.
2 people | 1 night
$30 for each additional person
discount
If you book 4 or more nights
No minimum stay. Additional $150 cleaning fee for a 1-night stay.
Linen provided | Microwave | Fridge | Oven | Dishwasher | Toaster | Kettle | Coffee plunger | Wood burner | Stereo | TV | Video/DVD player | Telephone | Big table | BBQ | 2 bays garage | Laundry
Check Availability
2 Queen rooms
1 Twin King single room
1 Twin single room
2 bathrooms
Every effort has been made to ensure your enjoyment of the rugged beauty of Palliser Bay in perfect comfort.
The beach house is located right on the coast, next to the Makotukutuku (Washpool) river bed, only 40-minute drive to the renowned Martinborough vineyards and 30 minutes to the Lake Ferry Hotel.
Walking & Tramping
Many options to enjoy a nice walk on the beach, bush or river. You can also go tramping on the Haurangi mountain range.
Hunting & Fishing
Easy access to the Haurangi mountain range for deer and pig hunting, and plenty of options for the fishing enthusiasts. Washpool is located near Ngawi fishing village and its annual fishing contest in February.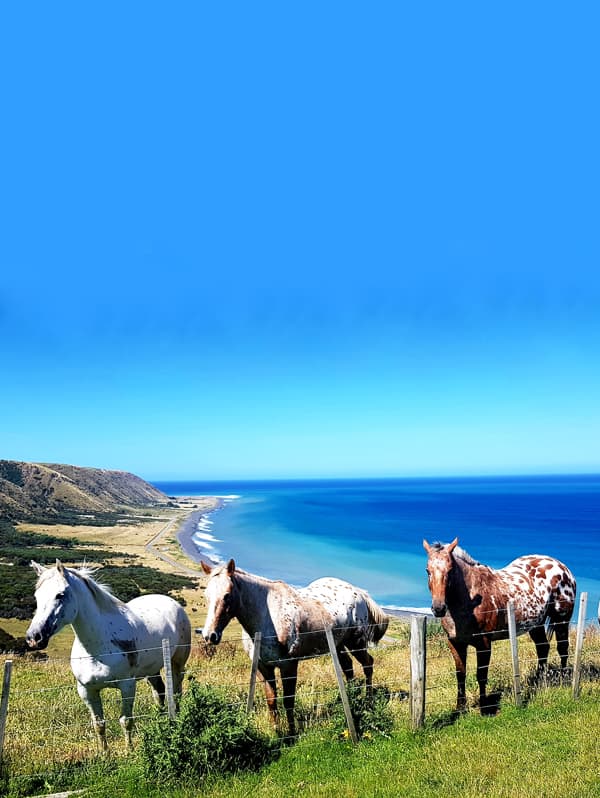 Sports & Adventure
Cape Palliser Bay offers a great variety of options for the adventure seekers: surfing, diving, mountain biking, swimming in the river or the lagoon, horse riding…Ngawi has a unique 9 hole golf course for your entertainment. The Washpool Station horses are available for riding, please note this is for competent riders only and individuals must accept full responsibility for their own safety. Kayaks with life jackets are also available to visitors. Users must accept full responsibility for their own safety.
Learn More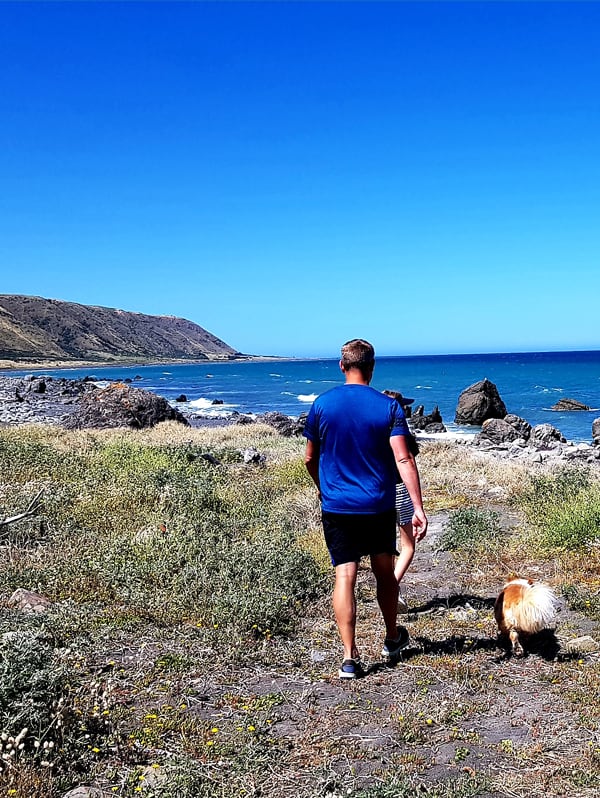 Relax
Relax and enjoy stunning sunsets from the house, go for an evening picnic to the river or a BBQ on the verandah. You can also visit Ngawi for real NZ Fish n Chips.
Tourist Attractions
There are many tourist attractions at Cape Palliser:
Visit the fur seal colony.
Cape Palliser lighthouse – Installed in 1897. Climb the 250 steps to the top! Once there, it's easy to see why this area of the Pacific Ocean was known for seafaring disasters. During the 19th century, there were about 20 ships wrecked in or near Palliser Bay.
Putangirua Pinnacles – formed over 120,000 years by heavy rain and wind which gradually eroded an ancient gravel deposit, eventually forming spectacular individual Pinnacles or 'hoodoos'. Māori called the cape Mātakitaki-a-Kupe (the gazing of Kupe), the pinnacles name 'Putangirua' means the sails of Kupe after the famous Polynesian explorer. The Pinnacles were used as the location for Dimholt Road in the The Lord of the Rings, Return of the King.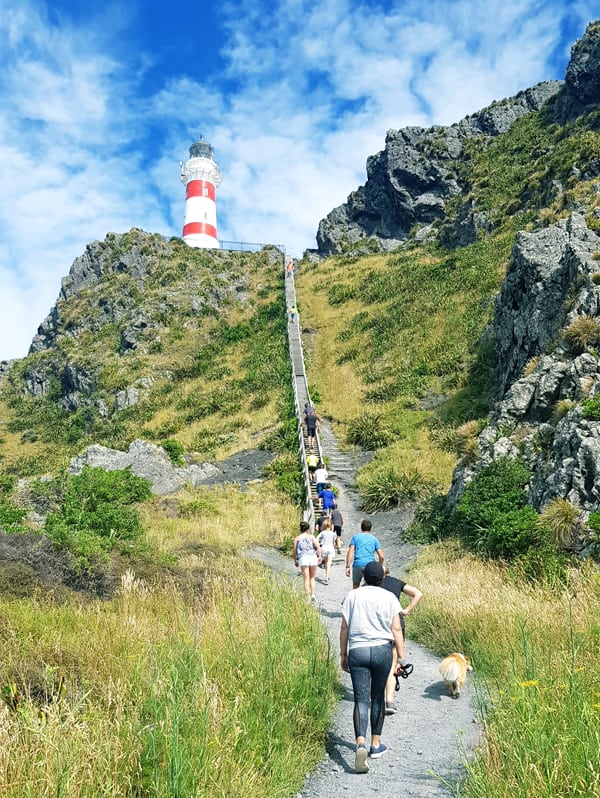 10 Good reasons to stay at Washpool
"Beautifully presented, well equipped, superbly set, one of the nicest places we've stayed in 35 years of touring New Zealand! Loved the family photos & history. Very interesting (and rather moving) to see the generations that have lived here"
"If you have to turn forty, this might be the best place in the world to do so"
Emma & Jane, Pete & Yanlin, Linden & Matt
"Beautiful visit in beautiful scenery. Not many places could touch it, especially in the UK. Thank you for making it possible & sharing it with other people"
"A charming house, so well set up, everyone just loved – excellent library, games for all ages, wonderful historical photos, most impressive garden for the wild coast"
"One of the loveliest places we've stayed. Gorgeous spot. Thank you!"
"Who needs Wharekauhau when we have Washpool? Many thanks"
"An oasis of peace and beauty, comfort and calm. Beautiful weather. Thanks"
"Fantastic holiday, as always"
Jo, Annabel, Archie, Jack & Tom
"Wonderful stay, thank you. Surfers, locals and horses were friendly. Spectacular weather and scenery. Seals could have smelled better!"
"What an extraordinary place. Beautiful scenery in an amazing part of NZ. The house has everything you need and is extremely comfortable"